TEA-INFUSED OATMEAL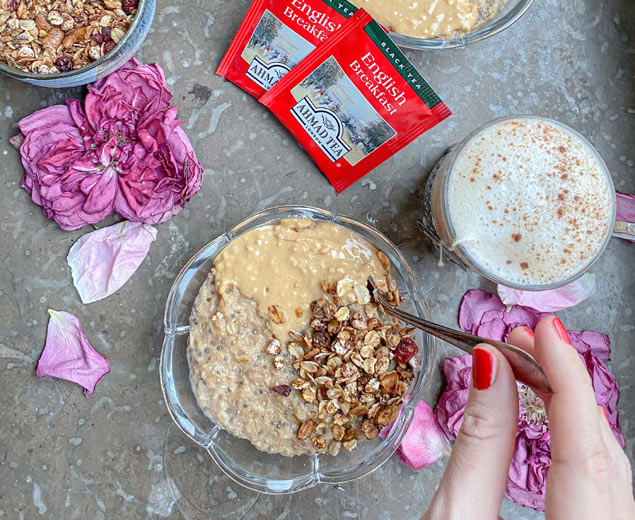 TEA-INFUSED OATMEAL
Enjoy your breakfast cup of tea in a new way with this recipe for tea-infused oatmeal by @infusedwithtea. We asked tea baker, Issy, to experiment by giving a flavour of Ahmad Tea English Breakfast to... breakfast! She came up with this simple, dairy-free porridge enhanced by the unmistakeable character of black tea.
DIFFICULTY
EASY
TIME TO MAKE
15 MINUTES
BLEND
ENGLISH BREAKFAST
FEATURED TEA
ENGLISH BREAKFAST
An all-round quality blend of teas from Assam, Kenya, Ceylon and other origins. An outstanding brew for any time of day or any occasion, with a strong and invigorating flavour.
INGREDIENTS
1 cup/120g porridge oats
½ cup/60ml coconut milk
½ cup/60ml English Breakfast tea – alternatively you could try Chai Spice
2 tbsp Chia seedsz
METHOD
1.

Brew the English Breakfast tea as per the instructions on the box – 1 teabag in 250ml water for at least 3 minutes. Once ready, add 60ml to a saucepan.

2.

Pour your oats, chia seeds and coconut milk in and heat the ingredients until boiling.

3.

When the porridge reaches boiling point, lower the heat, and simmer until you reach the desired consistency. Stir the mixture frequently.

4.

Once you've got the porridge at the consistency you would like, remove it from the heat.

5.

Add dried fruits, nuts, nut butter, yoghurt, kefir, berries or granola as desired.

6.

Serve and enjoy.