We are Ahmad Tea, a family-run tea company with headquarters in Chandler's Ford, but we are also one of the biggest tea brands in the world, selling in over 80 countries. If you're reading this you've probably found our magnificent 'Hero Hare' on the Hares of Hampshire art trail.

Get 20% off Ahmad Tea online shop & enter the exclusive prize draw
As a Hares of Hampshire trail-hopper we're delighted to offer you 20% off our online shop. Simply select from our range of award-winning teas and tea gifts, add your selection to your basket then insert code HARES20 at the checkout.
SHOP NOW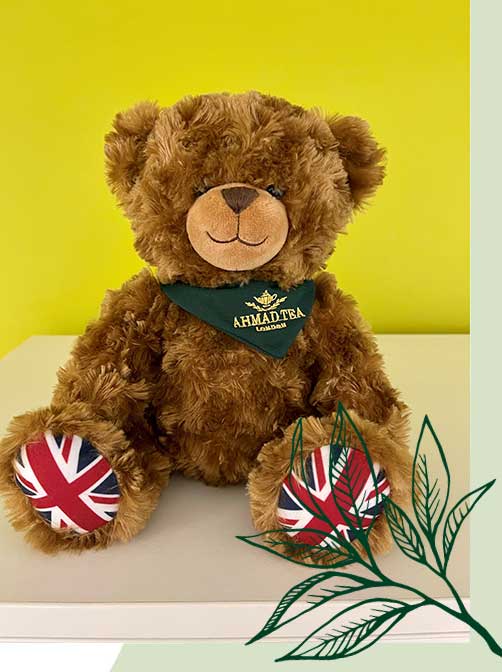 What's more, everyone who has used the code to make a purchase will enter the weekly draw to win an Ahmad Tea Teddy Bear as well as the big prize draw to win one of 2 pairs of Kew Gardens family passes.
Alternatively you can enter the draw by providing your name and email.
TERMS & CONDITIONS
Offer code Ts & Cs:
Discount is gives 20% off all Ahmad Tea products on uk.ahmadtea.com, valid until 31st October 2022. One use per customer.
Prize Draw Ts & Cs:
When entering this prize draw, all entrants will be deemed to have accepted these Terms and Conditions and agreed to be bound by them. Ahmad Tea reserves the right to amend these Terms and Conditions at any time.
1. The promoter is Ahmad Tea whose address is Ahmad Tea Ltd, Winchester Road, Chandler's Ford, Hampshire, SO53 2PZ, United Kingdom
2. Ahmad Tea is responsible for administration and fulfilment of the prize draw
3. For questions or feedback about the prize draw, please email marketing@ahmadtea.london

Personal details and publicity
1.Ahmad Tea will use the winner's, and each entrant's personal details for the purpose of administering this prize draw. To find out how be use your data please visit our privacy policy.
Who may enter?
1. This prize draw is open to participants in the UK aged 18 or over
Who may not enter?
1. Employees of Ahmad Tea and their first and second-degree family members may not enter, win or participate in a prize.
How to enter
1. Make a purchase using the promo code HARES20 on uk.ahmadtea.com to enter the draw.
2. Alternatively enter the draw by filling in your email and name in the form above, with no purchase necessary.
Entry Periods
1. There will be a weekly prize draw from all entrants in the previous week, beginning in the w/c 27th June and running until 26th August 2022
2. There will be one grand prize draw of two winners made after 26th August 2022.
Limitations / restrictions on entry
1. Maximum of one entry per person.
2. Participants who enter the draw are responsible for ensuring they will be able to accept the prizes. In the event a winner is unable to do so then Ahmad Tea reserves the right to reward the prize to another eligible entrant
Winner selection and notification
1. Throughout the course of the entry period there will be one winner per week for the weekly draw. The winners will be drawn at random by Ahmad Tea from all participants in the previous week.
2. There will be a grand prize draw at random from all participants over the entire entry period when two winners will be drawn.
3. The winners will be notified by email and will need to respond to that notification within 5 working days, in order to confirm their acceptance of the prize. All reasonable endeavours will be made to contact the winner during this time using the contact details provided in the entry form. Entrants should ensure they check their spam/bulk/junk folders for notification because if a response from a winner is not received within 5 working days of the notification being made, a winner may lose their chance to claim their prize.
4. The winners must provide a suitable delivery address that is not a PO box within 1 month of being contacted and notified.
5. Promoter's decisions are final and binding in all respects on all entrants.

Prize
1. The prize for the weekly prize draw is an Ahmad Tea Teddy Bear
2. The grand prize a pair of adult gift tickets and a pair of children's gift tickets for Kew Gardens, valid for a year, for two winners.
3. Ahmad Tea reserves the right to substitute the prizes for equivalent or greater monetary value if this is necessary for reasons beyond its reasonable control. There is no cash alternative to the prizes and unless the Promoter agrees otherwise in writing the prizes are non-refundable and non-transferable.
4. Details of the winner's names will be available for one month after the closing date by writing to Ahmad Tea via the email address above.

Liability
1. Ahmad Tea will not be responsible for (and will have no liability in connection with) the following occurrences, to the extent that they occur for reasons beyond their reasonable control:
2. Any postponement or cancellation of the prize draw
3. Problems with the dispatch of the prizes (such as a prize failing to reach the intended recipient
4. Ahmad Tea does not accept responsibility for network, computer, hardware or software failures of any kind, which may affect the sending, receipt or processing of your entry or for entries lost, damaged, delayed or unreadable, including loss of entries through technical fault or transmission delays.
5. If Ahmad Tea has grounds to suspect any entrant or third party of cheating, deception or fraudulent or unsportsmanlike conduct of any kind (including, without limitation, manipulating the promotion, choice of prize winner(s) or any entry or establishing multiple accounts in order to gain multiple entries where the number of entries is limited) the Promoter reserves the right (in its sole discretion) to disqualify any entrant, entry or person it reasonably believes to be responsible for, or associated with, such activity.

English law applies
1. This prize draw, and any dispute or claim arising out of or in connection with it including the prizes, shall be governed by the law of England and Wales and entrants irrevocably agree that the courts of England and Wales shall have exclusive jurisdiction to settle any such dispute or claim.